The ISDII Challenge Trophy Case!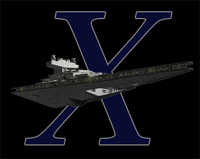 The ISDII Challenge is one of the proudest and most decorated ships in the Emperor's Hammer TIE Corps. Take a moment to look and admire (then either worship or join us and be worshiped >:J) some of our many awards since 2004 for external competitions, and since August 2006 for internal competitions! And know that each and every award listed as "Overall achievement" means we might have beaten one or more ships like the 'Chal' itself (well, not LIKE the 'Chal' of course!), full of excellent and skilled Imperial officers trying hard for the title to be theirs. Definitely we can feel proud of belonging to such levels of commitment and excellence coming from those who preceded us in service of the ISDII Challenge.
ISDII Challenge Overall achievements

EH TIE Corps Flagship 2009/2010!!! (the most prestigious title a single ship within the TIE Corps can achieve)
EH TIE Corps Flagship 2008/2009!!!
EH TIE Corps Flagship 2007/2008!!!
EH TIE Corps Flagship 2006/2007!!!
Defeated MC-80B Redemption (April/May 2007)
TIE Corps Battlegroups Flagship 2006/2007
TIE Corps Battlegroups Flagship 2005/2006
TCCOM's Own (December 2005)
TCCOM's Own (November 2005)
TCCOM's Own (October 2005)
TCCOM's Own (September 2005)
TCCOM's Own (July 2005)
Defeated ISD Relentless (March 2005)
ECR VI Champions (October 2004)
---
Internal Competitions
=
WC's Own
Cyclone Squadron
(October 2008)

Wing X Pilot of the Month
June 2009 - Pending...
May 2009 - Lieutenant Commander Dunta Polo (Tempest)
April 2009 - Lieutenant Commander Dunta Polo (Tempest)
March 2009 - Lieutenant Commander Dunta Polo (Tempest)
February 2009 - Lieutenant Commander Dunta Polo (Tempest)
October 2008 - Major Zosite Konstyte Styles (Cyclone)
September 2008 - Lieutenant Commander Kael Dalor (Cyclone)
August 2008 - Major Zosite Konstyte Styles (Cyclone)
July 2008 - Captain Vertigo (Cyclone)
May 2007 - Lieutenant Commander Dempsey (Cyclone)
April 2007 - Lieutenant Commander Zosite Konstyte Styles (Cyclone)
March 2007 - Lieutenant Dempsey (Cyclone)
February 2007 - Lieutenant Commander Zosite Konstyte Styles (Cyclone)
January 2007 - Lieutenant Commander Zosite Konstyte Styles (Cyclone)
December 2006 - Lieutenant Zosite Konstyte Styles (Cyclone)
November 2006 - Lieutenant Thorper (Typhoon)
October 2006 - Major Diaboli (Omicron)
September 2006 - Commander Kal J'qan (Typhoon)
August 2006 - Lieutenant Colonel Dirty Vader (Inferno)
June 2009 - Pending...
May 2009 - Lieutenant Colonel Zosite Konstyte Styles (Tempest)
April 2009 - Lieutenant Commander Dunta Polo (Tempest)
March 2009 - Lieutenant Commander Dunta Polo (Tempest)